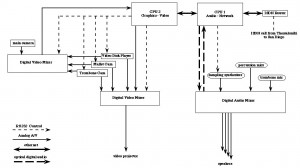 Lemma 1 was the first performance experiment of the of the Global Visual Music project of Miller Puckette, Vibeke Sorensen and Rand Steiger. The concert took place on September 27, 1997 at the International Computer Music Conference and featured Steven Schick on drum set and George Lewis on trombone. George and Steve had small video cameras mounted on their hands, and microphones on their instruments, and they were on either side of a large video projection screen. The audio program was amplified through a quadraphonic speaker system. Puckette, Sorensen and Steiger ran the computers and associated video and audio devices.
excerpts from the 27 Septemeber 1997 performance of Lemma 1 in Thessaloniki
(realvideo format – you must have the RealPlayer and Plugin installed on your computer, and a fast net connection)
Our work is sponsored by a generous grant from the Intel Research Council.
Score of the Structured Improvisation:
This is a score for a performance of Lemma 1 in February 1998 by Vanessa Tomlinson (percussion) and Michael Dessen (trombone). Timings are approximate. Each event is intended to create a natural trajectory towards the next, thus the timing is flexible, and determined by the performers. Most performances were about 15 minutes long.
Parenthetical remarks refer to the graphics displayed on the large projection screen 
between the performers. Cams refer to the miniature video cameras mounted on the performers hands.
Lemma 1 – Part 1
1. [0:00] BEGIN WITH A BANG VT gets nod from Rand, then starts to play assertively MD immediately enters similarly
2. [:30] VT SIGNALS COMPUTER CHORD (road map fills screen) MD stops, VT solo
3. [:45] TRADING FOURS – MD interrupts (10″) VT interrupts (8″) MD interrupts (6″) VT interrupts (4″) MD interrupts (2″) [1:15] back and forth quickly several more times until both are playing continuously create a sense of trajectory towards a climax at 1:30
4. [1:30] MD SIGNALS COMPUTER CHORD (last zoom of map then black) MD SOLO, VT stops [1:45] trombone camera fades in [2:15] (camera PiP pulls back – CG appears as frame)
5. [2:30] VT ENTERS with sparse single shots (each changes CG frame) [2:45] VT shots become more frequent, grow to short gestures
6. [3:00] VT more assertive – MD/VT evolve into duet [3:30] MD begins to recede – trombone cam window shrinking
7. [3:45] MD SILENT (trombone cam window disappears) VT solo
8. [4:00] MD ENTERS again with long notes (Cube appears) 
MD controls cube [4:30] MD begins to fade (back ground behind cube begins to fade out) VT transition into quieter, gentler playing
9. [4:45] MD SILENT (cube disappears – video tape of nature material begins) MD continues to perform with camera VT plays quietly – scrapes and rubs [5:00] (trombone cam cross fading with video tape)
10. [5:15] VT SILENT (trombone cam only) MD chaotic camera solo in silence, relaxing as (cam fades out)

 
Lemma 1 – Part 2
1. [5:30] VT gets nod from Rand, ENTERS WITH SINGLE NOTE (triggering words) MD follows with single note begin to slowly play more frequently but still very sparse
2. [6:00] PLAYING INCREASES (words animate more frequently)
3. [7:00] MUSIC EVOLVES as determined by performers (loops begin to appear behind words)
4. [8:00] VT PLAYS "MECHANICAL" LOOPS (loops begin to stick in place) MD joins with repetitive material (loops fill screen)
5. [9:00] MD and VT FADE gradually as (loops begin to fade from screen)
6. [9:30] MD SILENT (screen is black) VT SOLO [9:45] (stick cam fades in) [10:00] (camera in fully) [10:15] MD positions his camera towards VT
7. [10:30] MD enters with long notes (video cross dissolves between cams) [11:30] MD plays more actively, keep camera on VT, but bouncing around
8. [12:00] MD plays assertively to finish off section MD camera toward screen for feedback (video switches fast with extreme wipes) VT recedes to silence then prepares for Part 3 
 
Lemma 1 – Part 3
1. [12:30] VT ENTERS with body percussion (cam switches to video feedback chair) MD plays one last assertive gesture, then stops [12:45] computer bass begins – VT becomes more periodic
2. [13:00] MD ENTERS with solo over VT accompaniment (video room replaced by texture room)
3. [14:00] BASS STOPS – VT breaks into free playing duo with MD (exploding animation) create a sense of trajectory towards:
4. [15:00] MD Triggers Computer Chord and big unison gesture (extreme flashes) [15:10] SILENCE (black) [15:15] MD Triggers Computer Chord and big unison gesture (extreme flashes) 
[15:20] SILENCE (black) [15:25] MD Triggers Computer Chord and big unison gesture (extreme flashes) [15:30] echoes of last unison gesture, receding to nothing (smaller verts, shrinking to nothing)
5. [15:45] MD,VT quiet final section (flat vert appears at bottom of screen, moon video fades in) continue as appropriate [16:00] (moon video in fully, vert "peels" away) [16:30] MD, VT fade out to silence (as video fades to black) MSP fades out all audio on mixer 
 
■
1997 /
Art
/ Last Updated March 22, 2014 by admin /