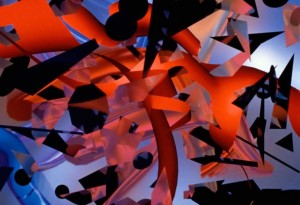 Note: the images above are stereoscopic, arranged for cross-eyed 'free viewing.' This means that the Left-eye image is on the right, and the Right-eye image is on the left. To see it in depth, cross your eyes until you see 3 images. The center image is 3-D.
 
(Video)
This is a stereoscopic 3-D animation of Color Bars (fantasy in stereo) followed by 5 seconds of black, and then all of Maya (7:15 min). It is a large file so it may take a few seconds to load.
To view it in 3-D, cross your eyes until you see three images. The middle one will be in stereo. Click on the images to remove the playback control icons, then move the mouse out of the picture.
Computer Animation by Vibeke Sorensen. Stereo music by Rand Steiger and Tim Labor. Thanks to Harry Lee Ammons and Phil Mercurio. Produced at the San Diego Supercomputer Center, Advanced Scientific Visualization Laboratory.
MAYA is a 7 minute stereoscopic computer animation that incorporates paradigms for interacting with space from music, sculpture, painting, and animation. It references the history of abstraction in art and language, and reflects on the nature of illusion. In one scene stereoscopic images are projected onto flat discs making up a small sculpture. Each disc is a circular window to another 3-D space. The result is a perceptual paradox: you see the edges of the disks in a sculpture made up of flat surfaces. But when you look at each separate,"flat" disc, you see windows to spaces that extend far beyond the space of the sculpture. The two spaces contradict each other, but the mind holds them together.
The title, Maya, derives from Indian (Hindu) philosophy, meaning "the conflict between illusion and reality." Fundamentally, our construction of reality arises from the interaction of perception and memory. Each one of us has a mental model of reality constructed from personal experiences with our world. The mental model is a representation, and not the real thing. All representation is an illusion, and all illusions are abstractions. This piece explores the fluid relationship between abstraction and representation, and the role of spatial perception in creating and communicating new mental models for the new spaces of new technology.
This piece was created at the San Diego Supercomputer Center where it helped develop the Interactive Stereoscopic Animation System (ISA). Funded by the National Science Foundation, the ISA was a collaboration was between myself, X-ray Crystallographer Dr. Lynn Teneyck, and Computer Scientist Phil Mercurio. Music was composed by Rand Steiger and Tim Labor, of the U. C. San Diego Music Department.
Phil Mercurio and Vibeke Sorensen in the Advanced Scientific Visualization Laboratory, SDSC
 
© 1993 Vibeke Sorensen
■
1993 /
Art
/ Last Updated March 22, 2014 by admin /